An Overview Of Insurance For The Flooring Contractor
Flooring contractors in the Ontario area are often times hired on by other general contractors. However, there are many cases when individual homeowners also hire them. Flooring contractors are tasked with a number of jobs including installing tile, hardwood, carpet and linoleum. Sometimes you might even find yourself doing a repair or two here and there. Whether you are doing a new installation or a repair, you need to make sure that you are protected against the risks that you are faced with. Working with a highly informed insurance provider can help you build the right insurance portfolio to offer all the additional protection that you and your company need.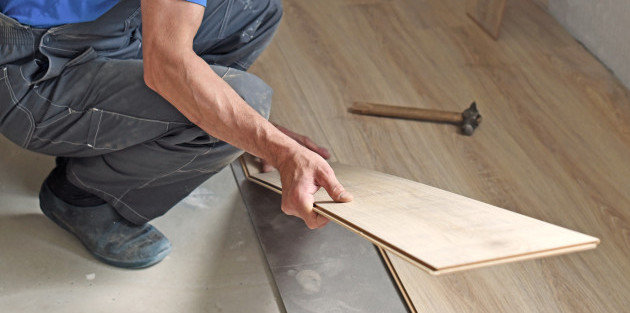 Understand The Flooring Installation Stats
Did you know that there are currently more than 70,000 flooring contractors in the country of Canada? They're and these contractors employee nearly 100,000 individuals. It has been estimated that the industry produces more than $10 billion in revenue every year and it is only expected to increase. With the housing market coming back in the Ontario area it really is easy to see why more and more people are getting into the flooring industry.
Your Flooring Firm Needs Liability Coverage
Insurance is necessary, but it can be somewhat tricky to understand. This is because there are so many different policies and they protect against different threats and risks. Basically, in a sense liability insurance will safeguard your company against financial losses that are related to property damage or bodily harm. It can also cover you in the event that you are sued. However, in order to make sure that you are completely covered in every situation, you will need to invest in the right liability plans.
CGL Or Commercial General Liability Insurance –

Flooring contractors will do most of their work inside their customer's homes and offices. And this is just one of the factors that make CGL insurance so essential. This policy covers you in the event that you damage the customer's property or cause them physical harm. It will cover the repair damages to the property, pay the medical expenses and cover the lawsuit related expenses if the customer wants to sue.

Auto Liability Insurance –

As a flooring contractor you will have a number of tools and equipment. You will likely need a van or several vans to transport your tools and material from jobsite to jobsite. These vans will need to be properly insured in the event that there is an accident. And, this is where auto liability insurance will offer the protection that you need. This insurance will cover you in the event that you hit someone or damage someone's property. It will also pay repair damaged, medical expenses and court related fees.
Hired Or Non-owned Vehicle Insurance –

There are some situations when you or your employees might drive your personal vehicles to the job. Maybe you are transporting materials or just hauling tools over. Whatever the situation is, if you are not covered with hired or non-owned vehicle insurance you are going to be facing major repair damages. When driving a vehicle for work related purposes regular auto insurance will not be enough to cover you. The vehicle needs to be cover under some kind of commercial plan.

Employment Practices Liability Insurance (EPLI) –

EPLI is a special policy that protects you from lawsuit fees that are related to unfair business practices. For instance, there are many times when employees might try to sue you for discrimination or harassment. Some employees might even claim wrongful termination. If you are at fault or not EPLI insurance will offer coverage against any court related costs.
Why You Need Workers Comp Insurance
In Ontario it is required by law to obtain workers comp if you are going to hire employees. However, there are other parts of Canada that do not require this coverage. In any situation workers comp is not a type of insurance that you want to skimp on if you are going to bring on employees. This insurance will cover any medical expenses that are related to worksite injuries. It also safeguards you against lawsuits and even covers your employee's lost wages. There have been many times when flooring installers have died on the job or died as a result of their injuries.
In these situations the bereaved family member will usually come after the company with hefty lawsuits. In a situation like this without workers comp insurance, you would probably be looking at a major financial loss. It is true that this type of coverage can be expensive, but if you do a little shopping around, you shouldn't have a problem finding a provider in the Ontario area that can over you a decent deal.
Why You Need Property Insurance
It is true that you will be doing most of your work in your client's homes and offices, but this doesn't mean that you should skimp on property insurance. After all, property insurance can protect your tools, equipment and your place of business. You will likely have at least two or three building where you store tools, materials and do administrative work. You can protect these items as well with the right policies.
Builders Risk Insurance –

If you are hired on by a contractor that is doing a new installation it will be likely that they have already purchased this plan, which will extend protection to you. In any case this coverage is excellent to acquire for yourself, because it offers protection for your tools while they are stored on the jobsite. If they are stolen or damaged on the job the plan will cover the repair or replacement costs

Inland Marine Insurance –

You tools won't always be stored on the job or at your shop. You will have to transport them from jobsite to jobsite. Inland marine insurance offers protection for your tools while they are in transit.
Build The Perfect Portfolio
Here at LiabilityCover we have agents that have unique insight into the flooring installation field. We know exactly what risks you are exposed to on a daily basis and how to safeguard you against these risks. We offer some of the most affordable prices in the area and we are here to serve your every need.