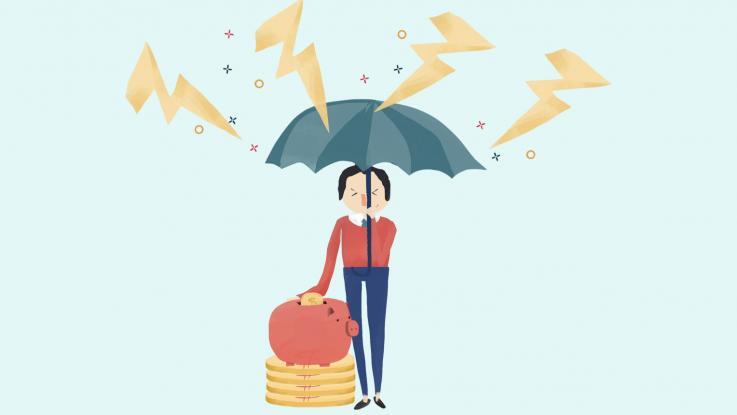 Even with the best intentions and plans, mistakes will happen. The best way to cover yourself in these situations is to obtain an errors and omissions insurance policy covering legal costs associated with third-party lawsuits related to your services or advice. 
In this guide, we'll answer your burning "what does an errors and omissions insurance policy cover?" question and put you on the path toward attaining the coverage you need.
Errors and omissions insurance, often referred to as professional liability insurance, is a type of policy designed for professionals and businesses offering services or advice.
In short, it protects you from mistakes and errors that cause negative consequences for your clients. However, as you'll see below, it's quite a diverse policy that protects you from a plethora of otherwise costly situations.
What Does Errors and Omissions Insurance Cover?
Running a business is tricky, and no matter how hard you try, mistakes and issues will occur. With errors and omissions insurance coverage, you don't need to worry; it's designed to financially cover the costs of third-party lawsuits against your services.
But let's take a deep dive into the specific protections offered by this much-needed insurance policy.
#1 Legal Defence Costs
If you're sued by a former client, your errors and omissions coverage pays for the legal defence costs associated with the case. After all, you'll be forced to seek legal help whether your client's allegations are true or not.
To ensure the best outcome for your business, you'll need to hire a qualified defence attorney. However, the best lawyers charge between $500 and $1,000 per hour. As you can imagine, this quickly adds up.
You don't want one lawsuit to turn into a permanent closure. So, acquiring an E;O policy to cover these potentially extortionate costs is a wise business move.
#2 Slander, Libel and Defamation of Character
Many companies find themselves on the wrong side of a lawsuit after a third party claims they've slandered their reputation and name. If you don't have enough money stashed away, these cases quickly turn into a business rescue mission as you try to cover the court costs.
Errors and omissions insurance pays the related fees for cases involving allegations of libel, slander, and defamation.
#3 Monetary Judgments
Lawsuits take a toll on all business owners — especially when it comes to the final decisions made by the judge.
The settlement amount depends on the type of error or omission made by your business and the severity of the consequences. Unfortunately, it's not unheard of that these monetary judgments financially ruin a business, causing them to permanently close their doors.
Therefore, it's worth protecting your company from total failure by acquiring an errors and omissions insurance policy. It will cover the costs of the settlement and associated legal defence fees to keep your business afloat during tricky times.
#4 Copyright and Trademark Infringement
It's hard to be original in the modern world; it appears everything has been done before! With that in mind, it's no surprise some companies accidentally infringe upon somebody else's trademark or copyright.
However, ignorance won't solve the inevitable lawsuit arising from infringement cases. You'll be forced to pay the costs whether it was an accident or not.
Luckily, E;O insurance covers these issues. Any associated losses and damages are paid by the policy.
#5 Invasion of Privacy
Some errors and omissions insurance policies cover invasion of privacy claims.
If your current or former client decides to pursue legal action against you for invading their privacy, you'll need to protect yourself. The defence costs can be extortionate, so coverage is vital to ensure your business continues to thrive.
What Isn't Covered By Errors and Omissions Insurance?
Typically, errors and omissions insurance won't cover you in the following situations:
Violation of securities acts
Fraudulent acts
Criminal acts
Cost guarantees or price estimates
Dishonest employees
Incorrect estimates of financial returns
Who Benefits From Errors and Omissions Insurance Coverage?
Any business that provides a service benefits from an errors and omissions insurance policy. Specifically, the following professionals should carry this type of coverage:
Engineers
Markers and advertisers
Accountants
Doctors
Veterinarians
Pet groomers
Website developers
Consulting companies
Hairdressers, hairstylists, and barbers
Printers and publishers
Educators
Wedding planners
Interior designers
As a general rule, if you could be blamed for losses or damages, acquiring this policy could save you a lot of money in the future if a lawsuit is filed against you.
Frequently Asked Questions
How Do You Get an E&O Policy?
Obtaining errors and omissions insurance coverage is easy with our team at LiabilityCover. Simply follow the four steps below:
Start by completing our simple online quote form.
Then our team will review your application to understand your insurance requirements.
We'll assign you one of Canada's leading insurance providers with experience providing coverage to others in your industry or profession.
Your designated broker or agent contacts you to walk you through the application process.
How Much Does Errors and Omissions Coverage Cost?
For a standard errors and omissions policy with a limit of $100,000, you can expect to pay roughly $250 per year. However, certain factors influence the price, including:
The coverage limit you pick
Your industry
The size of your company (i.e., the number of people you employ)
Your business location
Your deductible
Your insurance claims history
Any riders or extra clauses
Your services
Your business revenue
Experience, training, and qualifications of you and your employees
Contracts
To get an accurate understanding of your E&O premium price, complete our simple online request form.