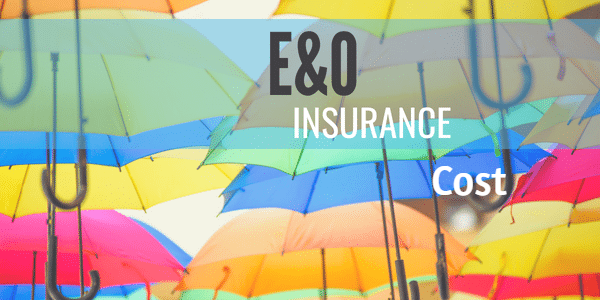 For any business providing a service or offering advice, errors and omissions insurance coverage is a must-have policy. However, before you jump headfirst into acquiring the policy, it's wise to understand how much you should anticipate spending.
Thankfully, that's exactly what we're here to tell you. Below, you'll find everything you need to know about the factors influencing the E&O policy premium.
On average, you should expect to spend between $500 and $1,000 per year on an E;O policy with a $1 million limit. But let's take a look at the top ten factors that decide your specific cost:
#1 The Size of Your Business
Your insurance rate changes based on the number of staff members you employ. Larger companies have higher risk exposures since they have increased opportunities to make mistakes and experience lawsuits. Thus, they pay more for E&O insurance policies.
#2 Your Profession or Industry
Every profession and industry come with their own risks and responsibilities. It goes without saying that some professionals are more exposed to more risks than others.
For instance, paralegals and healthcare professionals often pay more for errors and omissions insurance than copywriters and those in administrative roles. Therefore, the costs vary drastically depending on your field.
#3 Your Business Location
Your province affects the total cost of your errors and omissions insurance premium probably more than you realize. But when you consider that location changes the prices of everything from fuel to food, it becomes a no-brainer.
Businesses in areas affected by harsh weather conditions or higher-than-average crime rates should anticipate spending more on commercial insurance than those in safer locations.
#4 Your Coverage Level
The higher your coverage limit, the more premium you'll pay. Errors and omissions policies come with a range of typical coverage limits, as per the following:
$100,000
$200,000
$500,000
$1 million
$2 million
Despite the increased cost, your company might need a higher limit. You shouldn't let a costlier price put you off if your business wouldn't be sufficiently covered without a $2 million coverage cap.
#5 Your Deductible
The deductible is the amount of money you need to pay before your errors and omissions insurance kicks in. The larger the figure, the less expensive your premium price.
However, it's vital to select a deductible amount you can afford comfortably. Otherwise, you're putting your business in a precarious financial position if a claim occurs.
#6 Policy Endorsements
Your errors and omissions policy may not be the same as others. Since every business is wildly different (even those in the same industry), you have the option of customizing your E;O coverage to fit your company's unique needs.
The policy add-ons may increase your premium price, so talk to your insurance broker about your requirements before choosing any endorsements.
#7 Your Insurance Claims History
Insurance companies increase premiums if your business has made consistent claims in the past. Those with clean records benefit from substantially lower insurance costs.
Don't worry too much if you've needed to claim recently. At LiabilityCover, we connect you with the perfect insurer for your company.
#8 Your Experience and Training
If you have worked in your industry for a long time, you're considered less of a risk. Plus, if your employees are well-versed in the sector and are regularly seen to attend training to improve their skills, you can benefit from decreased premiums. After all, with experience and consistent training comes a lower likelihood of making mistakes.
#9 Your Company's Revenue
Of course, it's always great to run a business that brings in a lot of money. However, it's worth noting that the more money you make, the higher your errors and omissions insurance premiums will be. Why? Because third parties are likely to ask for more damages during lawsuits if they're aware your revenue can fund it.
On top of that, a higher income suggests your business deals with more clients, exposing you to an increased number of risks.
#10 Contract
Contract breaches are one of the most common reasons behind errors and omissions lawsuits. You'll be surprised by how much money you can save on premiums if you ensure all contract agreements are written and signed in a non-ambiguous way.
LiabilityCover Gives You The Best Rates
Our working relationships with the country's leading errors and omissions insurance providers allow us to always award you the best rates. By following the steps below, we'll connect you with your company's perfect E;O insurer:
First, complete our short inquiry form.
Our team analyzes your insurance requirements based on the information you provided on the form.
Next, we connect you to one of Canada's best insurance providers with experience covering other businesses in your industry.
The designated broker or agent contacts you to walk you through the process.
Other Frequently Asked E&O Questions
A variety of professionals require errors and omissions insurance, including:
Medical professionals
Dog sitters
Attorneys
Chauffeurs
Strategic, operations, marketing, and organizational consultants
Interior designers
Graphic designers
Legal and finance professionals
Social service professionals
Photographers and videographers
Human resources consultants
Project managers
Software developers
UX and web developers
Forensic experts
The duration varies massively. But on average, you can expect to receive a quote within 48 hours. Other businesses might be lucky and acquire the quote almost instantly, but most should expect to wait between 24 and 48 hours.
The size of your business, type of industry, and insurance provider are the main factors influencing your quote wait time.